Road pothole patcher-GXMEP-C4000
Product scope of application:
Road pothole patcher is a fast repairing equipment for asphalt pavement and cement concrete pavement diseases. The main repairing diseases include pits, cracks, cracks, ruts, shoulders and so on. It is widely used in expressways, grade highways, municipal roads and airports.
Product performance advantages:
1. In the uninterrupted construction work, the spraying King discharges 57 kg per minute.
2. Shotcrete King technology has been proved by the long-term follow-up of the "Strategic Highway Research Program of the United States" (SHRP), which is the most effective and cost-effective repair method. More than 97% of the pits repaired by Shotcrete King can maintain their life for more than five years.
3. Operating handle is simple to operate and unique in design. It realizes operator's fatigue-free operation.
4. The whole emulsified asphalt pipeline can be cleaned with less than one liter of cleaning liquid.
5. The nozzle can be cleaned automatically without disassembly and night immersion cleaning.
6. The emulsified asphalt is fed through pressure without asphalt pump.
7. The main system (emulsified asphalt and aggregate feeding system) of Gunbu King has been designed in the same device. The application experience of this system has exceeded 20 years.
8. The King of Painting only needs less than five minutes to maintain every day.
9. The King of Spraying Operators are free from the dirt of blown aggregates and oils.
10. The material will not splash during the construction of the spray repair king. It can be constructed close to the traffic or traffic facilities.
11. Gunning King Gunning System can allow 6.4cm size aggregate to pass through without blocking.
12. Gunbuwang's unique aggregate conveying system enjoys the patent right. The system uses the principles of gravity and aerodynamics to convey aggregate, which greatly reduces the wear and tear of the moving parts (such as screw, blade, hydraulic motor, etc.) in the traditional conveying mode. There are no mechanical moving parts in the conveying system, and the equipment is basically free of maintenance.
13. Unique pneumatic feedback system can effectively prevent aggregate from blocking pipelines.
Product Technical parameters:
Product Model

Pavement Patcher

Equipment dimensions

(L)8430mm, (W)2450mm, (H)2950mm

Hopper capacity

4000L(4m³)

Weight

9260kg

Digital Pressure switch (Xin Yiguan KE-200)

Range range

-1bar~200MPa

Service voltage


12~35VDC(24VDC Calibration voltage)

(24VDC calibration voltage)

Output relay capacity

220VAC 3A, 24VDC 5A

Setting range





Set monitoring point for full scale, prevent fluctuation return difference.

Service temperature

-20℃~85℃

Circulation system of heat transfer oil

Specification of Heat Conducting Oil

300#

Fuel tank volume

6.7L

Gear oil pump


Magnetic drive gear pump(MG2015-Y-120/24 Pascal, Nanjing),Direct 24V

Magnetic drive pump, DC 24V

Control method


Manual


Control voltage

24VDC

Engine(Cummins 4BTA3.9-C80)

Rated power

60kW

Maximum Torque

330N·m

Maximum Torque and Speed

1500rpm

idling

750rpm

Air blower (Spain PEDRO GIL FRA150/33.2)

Specifications

7.80~40.29m³/min,300~1000mbar

Asphalt tank

Volume


800L

Net weight of container

320kg

Design Pressure

0.8MPa

Design temperature

110℃

Maximum working pressure

0.7MPa

Proof pressure

1.04MPa

Washing tank

Volume


left pressure chamber 15L





Right pressure chamber 45L


Net weight of container

90kg

Design pressure


Both pressure chamber 0.8M


Design temperature

50℃

Maximum working pressure


Both pressure chamber 0.77MPa


Proof pressure

1.01MPa

Compressor

Air displacement


183L(2150r/min)

Working pressure


0.8MPa

Emulsified asphalt

Specification




Fast set and fast split, asphalt content is more than 65%

Aggregate vibrator

Specifications

24VDC exciting force:200KG

Diesel tank

Specifications

755mm×350×290 (74L)

Aggregate

Aggregate Specification


clean, diameter from 5mm to 15mm

Construction process:
1. Use compressed air to clean the pit and remove any loose materials and water in the pit.
2. Spray a layer of emulsified asphalt on the inner surface of the pit.
3. Spray the mixture of emulsified asphalt and aggregate into the pit.
4. Put a layer of dry aggregate on the top of the pit to make it have a surface sealing layer, thus completing the sealing work.
5. Traffic can be opened immediately after repairing, and there is no need to use flat-plate rammer or compactor for compaction and flattening (flat-plate rammer or roller is commonly used for compaction in domestic construction).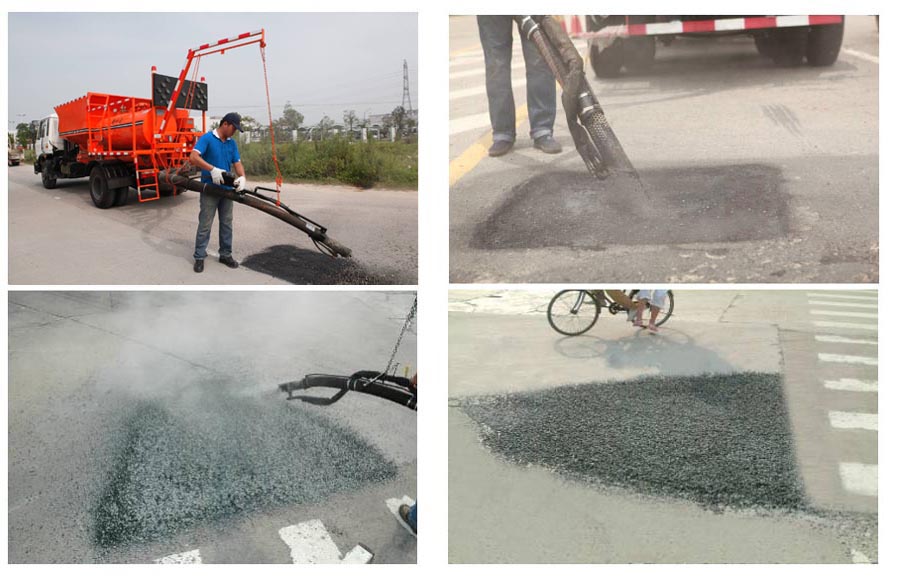 You choose not only reliable products,There are also high-quality services!