GXMEQ-CX8000 Vacuuming Road sweeper


Product scope of application:
GXMEQ-CX8000Vacuuming Road sweeper Using the principle of negative pressure pure suction, it has the functions of road surface dust collection, primary dust collection, secondary dust collection, dust recovery, etc. The equipment has a wide range of dust collection, high cleaning rate, no dust at suction outlet, no dust discharge at outlet, and high working efficiency. It can be constructed all-weather and all-season. It is the preferred product for environmental sanitation cleaning and material recovery. It is suitable for industrial and mining enterprises and urban elevated roads, expressways, bridges and tunnels which are liable to produce dust pollution with high concentration and density, as well as urban trunk roads, highways and expressways.


GXMEQ-CX8000 Vacuum sweeper provides an efficient and environmentally friendly way for city cleaning, road maintenance, dust-prone industrial and mining enterprises, port terminals, etc.
Product performance advantages:
Dust-free operation
Pure suction operation mode, one-way air intake (no back-blowing air flow), can achieve dust only in and out, to eliminate dust. The PM2.5 emission requirement can be achieved by using a multi-stage high-efficiency filtration system (the filtering accuracy is up to 0.5 micron) to eliminate the "dust removal" situation.
Low cost of use
No rolling brush, no sprinkler and dust pressure device, low cost of use and maintenance.
Good dust removal effect
After collecting dust for many times, the dust in the suction box can be separated from the particles, and can really be absorbed and retained.
Strong adaptability to environment
The method of air separation is used for dust collection, and the low temperature of - 40 C is used as usual.
Convenient maintenance
Dry backflushing filtration technology and recycled materials, automatic ash cleaning of filtering system, easy and fast maintenance of filter element.
Easy to operate
The centralized control panel with humanized design makes the operator clear at a glance and easy to operate.
Long life of fan
The fan is located at the end of the duct. Only clean air passes through it. There is no additional corrosion and wear. Its service life is relatively longer.
Wide scope of application
Strong wind pressure, good cleaning effect. It is suitable for cleaning operation and material recovery in urban streets, viaducts, expressways, cement mines, wharf ports, metal smelting, storage runways and other working conditions. It is especially suitable for zonal cleaning of expressways and grade highways.
Multi-purpose car
It can be equipped with guardrail cleaner, snow removal shovel, hydraulic brush, external handheld pipe, etc.
All protective measures
In order to protect the safety of human body, key machinery, hydraulic and electrical components, full consideration should be given to the protection measures in the design. Even unintentional irregularities will not cause harm to the equipment.
Product parameters:
| | |
| --- | --- |
| Projects | Parameter |
| Whole model | GXMEQ-CX8000 |
| Shape size | 6950×2500×3265mm (length * width * height) |
| Working methods | Vacuum cleaner |
| Maximum sweep width | 3.65m |
| Effective volume of dustbin | 5.82m³ |
| Effective Volume of Dust Box | 2.27m³ |
| Maximum speed | 95km/h |
| Recommended working speed | 5~20km/h |
| Inhalation particle diameter | ≤120mm |
| Unloading horn | 50° |
| Subengine model | Cummins QSB5.9-C180-30 |
| Rated power/speed | 133kW/2200rpm |
| Maximum Torque/Speed | 800Nm/1500rpm |
| Displacement | 5.9L |
| Hydraulic power supply | Chassis PTO and auxiliary engine |
| System rated pressure | 20MPa |
| Volume of Hydraulic Fuel Tank | 60L |
| Selector | Guardrail Cleaner, Hydraulic Brush, External Handheld Tube, Snow Shovel, etc. |

Product chassis parameters:
| | |
| --- | --- |
| Chassis Model | DFH1180BX1V |
| Chassis Engine Model | ISB180 50 |
| Eemission standard | Country V |
| Rated power/speed | 132kw /2500rpm |
| Maximum Torque/Speed | 700Nm/1400 |
| Displacement | 4.5L |
| Fuel tank capacity | 160L |
| Wheelbase | 4500mm |
| Total quality | 18000kg |
| Curb weight | 11000kg |
| Driving mode | 4×2 Rear wheel drive |
Product use occasion: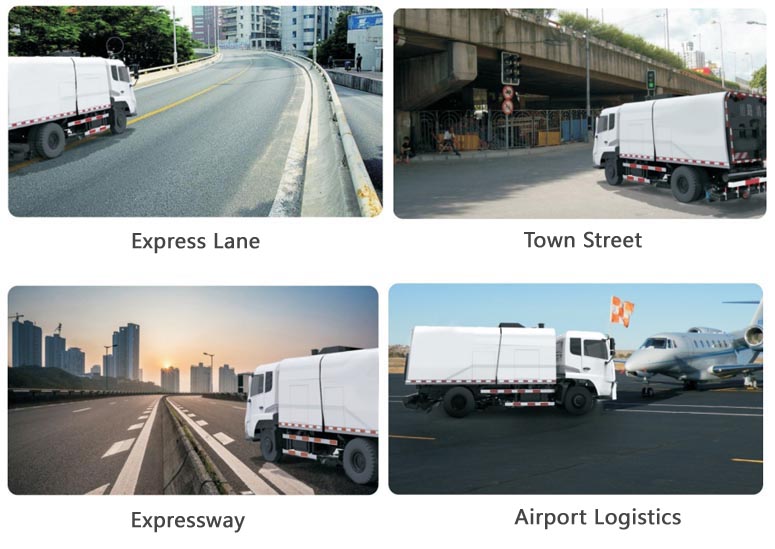 You choose not only reliable products,There are also high-quality services!